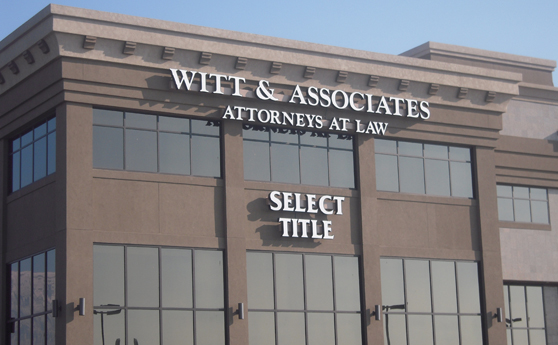 Your Full-Service Law Firm
Unfortunately, bad things sometimes happen to good people. Four of the hardest situations a person can find themselves in are: (1) serious injury or death of a loved one due to an accident; (2) divorce and division of a family; (3) facing an arrest or imprisonment; or (4) failure to properly manage ones personal estate or business matters. This may be you. At Witt & Associates, we have a great staff of experienced attorneys and legal assistants ready to help you with any of these issues. We pay personal attention to your specific needs. You are always welcome to call or stop by for an appointment. Give us a call. We can help.
Out of our offices in Lehi, UT, we have been providing effective legal counsel and representation in the state of Utah since 1995. Marshall Witt and his legal staff will aggressively represent your best interests through our expert criminal, family, estate, and personal injury Utah services.
Witt and Associates excel in their chosen areas of practice, and possess the skill and resources critical to represent you or your business successfully. We are dedicated to integrity, personal care, and exceptional advocacy in the advancement of our clients' interests. The success of our firm is a product of the satisfaction level of our clientele.
What Makes Us Qualified For Your Case?
We are Thorough - We perform all the necessary research in order to provide you with firm representation in court.
We are Experts in Our Field of The Law - Witt and Associates has a professional team composed of highly-skilled lawyers with years of experience in litigation behind them.
We Adhere to Legal Ethic Standards - We have the criminal and personal injury attorney Utah can rely on to employ strict legal ethics when dealing with clients.
We Believe in Confidentiality - Our law firm keeps all your consultations and personal information private.
Utah Personal Injury Attorneys
If you or a family member are seriously injured or you have lost a loved one due to an accident, you should give us a call. We can help you through the many complex insurance and other legal issues involved in your case, including:
Getting your vehicle or other property replaced or repaired;
Paying your initial medical bills;
Recovery of wage loss and necessary household services; and
Helping you recover full and fair compensation. Remember, you don't pay us anything unless your case is resolved.
Utah Criminal Defense Attorneys
We handle misdemeanor and felony cases for both adults and juveniles throughout the State of Utah, including:
Speeding
Harrassment
Drugs
Open Container
DUI
Felony DUI
Violent Crimes

Domestic violence
Assault
Battery
False imprisonment
Kidnapping

Sex Offenses

Child molestation or abuse
Sexual abuse
Rape
Solicitation

Theft

Shoplifting
Auto theft
Robbery
Burglary

Embezzlement
Deceptive Practices
Because of what is at stake, no person should attempt to represent themselves in a criminal setting, except for perhaps minor traffic violations. Virtually any accused whom is represented by an experienced criminal defense attorney will end up with a much better result than had that person tried to handle it on their own.
Utah Family Law Attorneys
Perhaps one of the most trying times for an individual or family is when a couple divorces. Although basic forms can be obtained and filled out online, because of the many serious and critical issues pertaining to child custody, visitation, child support, alimony, division of debts and assets, no one should try to go through a divorce without the help of competent legal counsel. Divorce decrees are very difficult to modify, so they should be done right the first time.
Utah Estate Planning Attorneys
Our estate planning and probate department has extensive experience in crafting wills and creating trusts, assisting in estate planning and protection, and providing representation in the appointment of personal representatives, trustees, guardians and conservators.
Witt and Associates prides itself on providing you with a qualified criminal and personal injury lawyer Utah can trust in your case. Rest assured that each of our lawyers will provide you with high-caliber representation you deserve. For queries or consultations, contact our law firm today.
Wills
You may wonder whether or not you need a will. In other words, what happens if you do not have a will? The short answer is in the "power of appointment". With a will you can appoint whom you want to be the personal representative of your estate and how you want that person to distribute any remaining personal or real assets after paying any outstanding debts or taxes. If you have minor children, you can also appoint whom you would like to be your children's guardian. Without a will all these matters may be contested and left up to the court. All decedent estates must go through probate court whether that person had a will or not. Probate can sometimes be quite expensive.
Trusts
The main benefits of transferring your assets to a trust are:
Many expenses may be tax deductible and thereby lower your tax liability each year;
Your estate will avoid having to go through probate court which will save a lot of time and money; and
Your trust assets are not charged an estate tax before distribution to your heirs, with some limitations.
As part of your trust package we also prepare a power of attorney, a living will and a pour-over will. Finally, we make sure all your assets are actually transferred into your trust. While it is true that a person can go online and print off some do-it-yourself wills or trusts, that is not advisable. One of the greatest benefits of having Witt & Associates help you with a will or trust package is not the forms, but in providing you with personal consultation, guidance and advice in creating those very important documents.

Fill out this form for a
free consultation
with our office today!