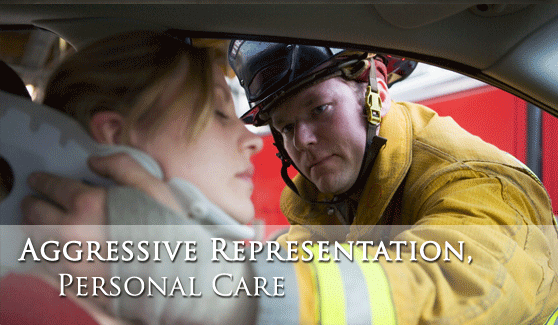 Utah Personal Injury Attorneys
Personal injuries are a serious matter. In addition to affecting your personal health, it can affect your ability to earn a wage, maintain your lifestyle, or even care for yourself. If you've acquired personal injuries and wish to get proper compensation, call our office for a free consultation with a Utah personal injury attorney. You'll see first hand the personal care any Utah personal injury lawyer from our firm will provide for each of our clients. You don't want to risk your future on an inexperienced law firm.
Insurance companies train their claims adjusters to delay and minimize payouts to injured claimants. It takes an experienced attorney, who knows all the tricks, to get you the money you need to cover your expenses, and compensate you for your pain and suffering. For nearly 15 years, Witt & Associates' Utah personal injury lawyers have been helping the people of Utah receive the compensation they deserve, in cases like these:
» Accidents
Car Accidents
Truck Accidents
Motorcycle Accidents
Semi-Truck Accidents
Bicycle Accidents
Pedestrian Accidents
Construction Accidents
» Injury Cases
Head Injuries
Spinal Cord Injuries
Paralysis
Burn Injuries
Electrical Injuries
Catastrophic Injuries
» Medical Cases
Medical Malpractice
Defective Drugs
Birth Injuries
» Wrongful Death
Our Utah personal injury lawyers have the knowledge and experience to defend your case and get you the just compensation you deserve. We carefully study each case and work around a fair settlement for you with the insurance company and other people responsible so you'll be able to pay for hospital and doctor bills, lost income and other necessary medical care.
Each Utah personal injury attorney from our office provides personalized attention to your case, concerns and needs. We advise you of your options and help you make the best informed decision for your situation.
If you've been injured, make Witt & Associates your first call. Our Utah personal injury lawyer can generally tell you right over the phone how strong your case is. If we are not able to obtain a financial award for you, you will pay us no fee.

Fill out this form for a
free consultation
with our office today!